The Spencer Dallington Community Centre in Tintern Avenue, Northampton, is run by DeafConnect, a charity supporting deaf and hard of hearing and deafblind people in Northamptonshire. They offer communication services, drop in sessions, meetings, events, deaf youth and OAP clubs, Tinnitus groups, advocacy and support and volunteering opportunities.  The Centre is also used by other groups such as youth clubs, OAP groups, community clubs, churches and residents meetings.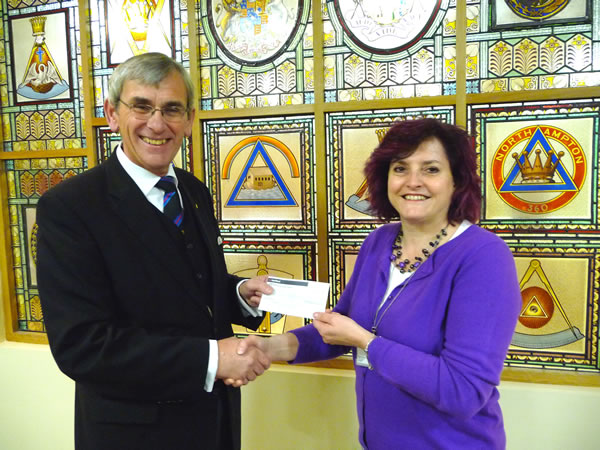 Earlier in 2014 DeafConnect had problems with its boiler and heating system which needed replacing.  They managed to raise £6,000 of the money needed for the work but appealed to Northampton Masons for the remainder.  Northampton Lodges,  Grey Friars No 4990, Old Northamptonians No 5604, Anglo Scottish No 8844, Harmony No 9048 and the Brixworth Dining Club contributed £1,100. 
On their behalf WBro Gerry Crawford, ProvGChStwd, presented the cheque to Joanna Steer, DeafConnect's CEO on 15 December 2014.
Joanna said
Sign language is very difficult with cold hands.  This wonderful gesture by local Masons will help us complete the work needed to the benefit of everyone.