The meeting of Dr Oliver Lodge No. 3964 held at Ellindon on Friday the 27th of December 2019 was one to remember for WBro (Elvin) Roy Cole as it saw him receive his 60-year Diamond Jubilee Certificate from Past Assistant Provincial Grand Master, WBro David Burton PSGD.
The presentation was just what the doctor ordered as WBro Roy had only recently had a major fall-out with a wardrobe door, hence the reason for him looking a little black and blue in the following photo!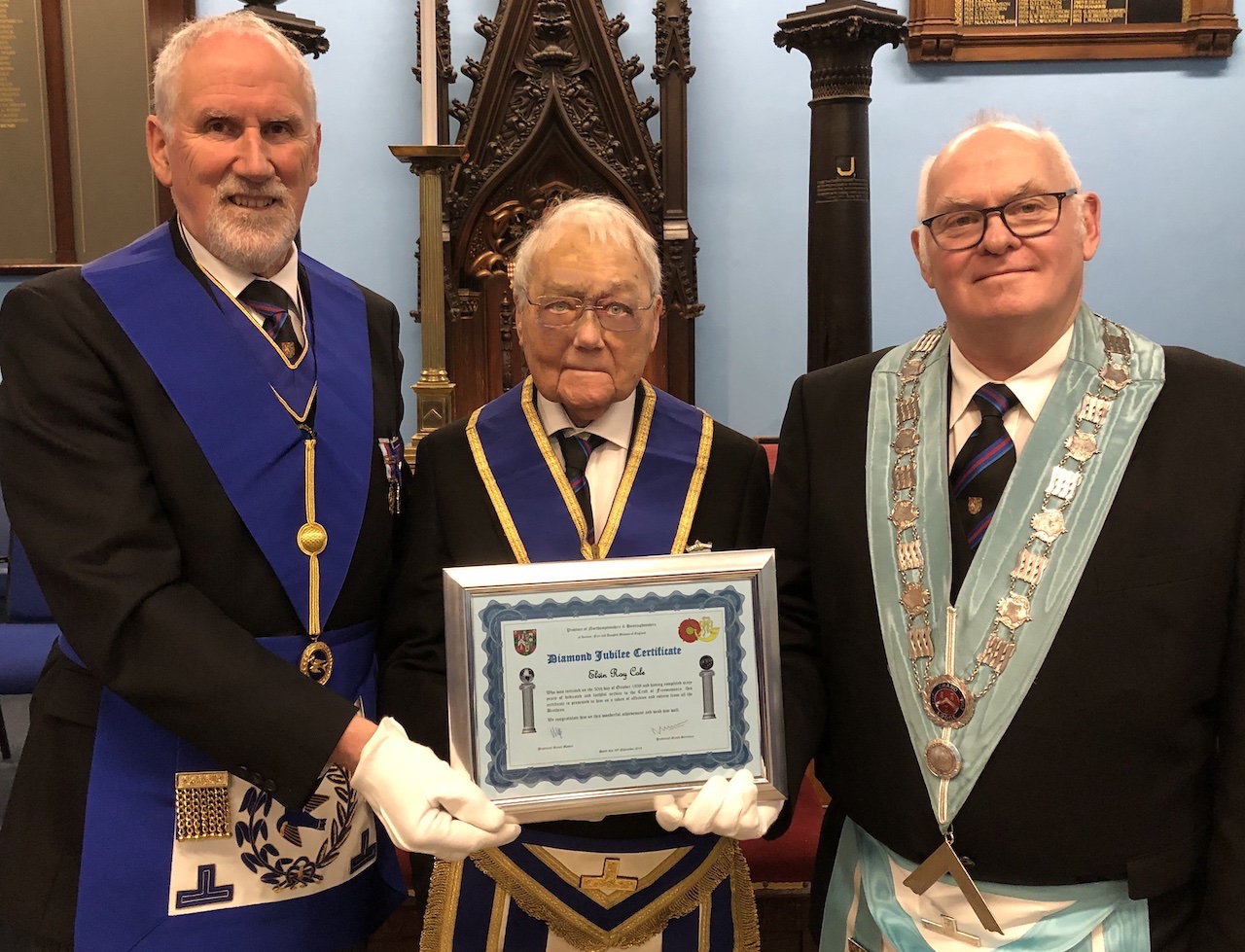 During his presentation, WBro David informed those present that WBro Roy was initiated into Dr Oliver Lodge on the 30th of October 1959. At that time, WBro Roy was 33-years old.
In looking back over the events of that year, WBro David recounted that:
Dense fog bought chaos to the country in January
Juke Box Jury was shown for the first time on the BBC
UK postcodes were introduced for the first time as an experiment in the city of Norwich
Barclays was the first bank to install a computer
The British Motor Corporation launched the first two-door Mini, which was designed by Alec Issigonis
Harold MacMillan achieved a third successive Conservative victory in the General election
Ronnie Scott's jazz club first opened in London
The first section of the M1 opened from Watford to Rugby
WBro David then proceeded to outline some of the notable milestones in WBro Roy's Masonic career:
Installed as Worshipful Master of Dr Oliver Lodge in 1973
Received the first of his four promotions to Provincial Grand Rank in 1975 when he was made a Provincial Grand Steward
Became a founder member of the Palmer Lodge of Provincial Grand Stewards in 1981 subsequently progressing to Worshipful Master in 1985
Promoted to the active rank of Provincial Senior Grand Warden in 1999
Joined the Gildenburg Chapter of Holy Royal Arch in 1978 subsequently becoming MEZ in 1997
Awarded active rank in Holy Royal Arch as Provincial Grand Sword Bearer in 2000
Received a further promotion to Past Provincial Grand Scribe Nehemiah in 2004
Addressing WBro Roy, WBro David said:
Sixty years in Freemasonry is a wonderful achievement: you began your Masonic Career when I was only 9.

I have had the pleasure of being with you in this Lodge, the Palmer Provincial Stewards Lodge as well as Dr Oliver Chapter.

During this time, we have become very good friends.

You are an inspiration to the Brethren; still enthusiastic about your Freemasonry, and after 60 years in the Craft, a person who is greatly respected and admired.
We congratulate WBro Roy on his fantastic achievement and wish him many more years to enjoy his membership of the Craft.