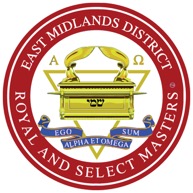 The Royal and Select Masters Order is administered from Mark Masons' Hall by 'The Grand Council of the Order of Royal and Select Masters of England and Wales and its Districts and Councils Overseas' and was set up in 1873 under a Charter issued by the Grand Council of New York.
The order is headed by the Grand Master and divided into Districts, with each being led by a District Grand Master. The East Midlands District has eleven Councils covering the Craft provinces of Bedfordshire, Leicestershire & Rutland and Northamptonshire & Huntingdonshire. The order comprises four degrees which (in order) are Select Master, Royal Master, Most Excellent Master and Super Excellent Master. They are collectively known as Cryptic Masonry from their relationship to a secret vault. All administrative work is performed in a Council of Select Masters, as is the Installation of a new Thrice Illustrious Master. The other three degrees are merely opened and closed to confer that particular degree.
The degree of Select Master is held in the vault under the Temple into which the secrets are deposited. It tells of how a well known mason employed by King Solomon intrudes into the vault where the three Grand Masters are meeting and it illustrates the consequence of the intrusion.
The Royal Master degree is set just prior to the completion of the first Temple and refers to the completed vessels for the Holy Temple and contains an unforgettable Masonic experience, spoken by a Companion representing Hiram Abif. The Most Excellent Master degree concerns the completion of the first temple and the installation of the Ark of the Covenant.
Finally the Super Excellent Master degree deals with the destruction of and the plundering of the valuable artefacts in the Temple by the forces of Nebuchadnezzar and the Jewish nation being taken into captivity to Babylon.
Members of all religious faiths are eligible for its teachings and to qualify for membership one has to be a Royal Arch Mason and a Mark Master Mason. The ritual book for these four degrees contains an excellent introduction as well as the working of the ceremonies. The degrees cover the period from 974 BC to 534 BC from the Mark Degree – the building of the Temple to the Royal Arch – the recovery of the Word. The regalia comprises of a triangular white apron, edged with crimson and trimmed with gold braid. The breast jewel reflects the apron with a white equilateral triangle surmounted by a gold crown suspended from a crimson ribbon. Officers wear a crimson collar from which is suspended a gilt trowel with the emblem of Office. There is a tie to the Order, which is worn in the Councils.
Councils in Bedfordshire:
Charles Herbert Perram Council No 66 (Dunstable)
Olney Council No 178 (Olney, although just outside of Bedfordshire)
Councils in Leicestershire & Rutland:
Leicester Council No 146 (Leicester)
Lutterworth Council No 234 (Lutterworth)
Carillon Council No 267 (Loughborough)
Councils in Northamptonshire & Huntingdonshire:
Northampton Council No 99 (Northampton)
Huntingdon Council No 130 (Huntingdon)
Towcester Council No 131 (Towcester)
Corby Council No 195 (Corby)
Peterborough Council No 243 (Peterborough)
Nine Arches Council No 302 (Corby)
For further information please contact the District Recorder who will be able to provide details and answer any questions:
This email address is being protected from spambots. You need JavaScript enabled to view it.