During his year as the Worshipful Master of Ailwyn Lodge No 3535, WBro David O'Leary decided to donate to the Mid Anglia General Practitioner Accident Service (MAGPAS).  
This supports the Ambulance Service by providing the MAGPAS Helimedix Air Ambulance and a MAGPAS specialist medical team, despatched to cases of life-threatening illness or major trauma within the East of England.  The charity operates a helicopter and rapid response car, staffed by highly trained Pre-Hospital Doctors and EEAST Paramedics, many of whom volunteer their own time to work with us.
During the year WBro David and members of the Lodge raised £1,000.  This was augmented by a donation of £1,000 from the Provincial Grand Charity.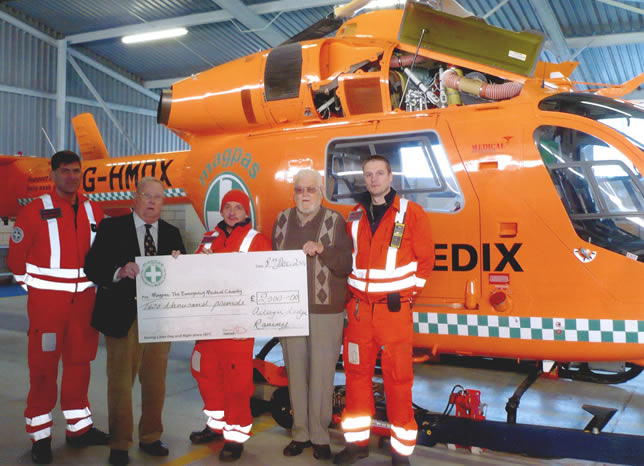 In December 2014 the £2,000 cheque was presented to MAGPAS by WBro Geoffrey Barnes, Lodge Charity Steward and WBro David O'Leary, by then the Lodge's IPM.