A very special event took place at Chicheley Lodge No 607 on 3 November 2014. The Deputy Provincial Grand Master, VWBro Dr Viv Thomas, presented WBro Sid Prowse with his Jubilee Certificate, offering his personal congratulations to commemorate 60 years in Freemasonry.
Born in Dublin, WBro Sid was initiated there in 1954 in the Spinks Lodge, before settling in England with his wife & family. He became a Metropolitan Police Officer, serving for 25 years, joining the Handone Mount Lodge 8183 at Harrow in 1977, where he was Worshipful Master in 1991. He gained Provincial Rank in Middlesex being appointed Past Provincial Grand Standard Bearer.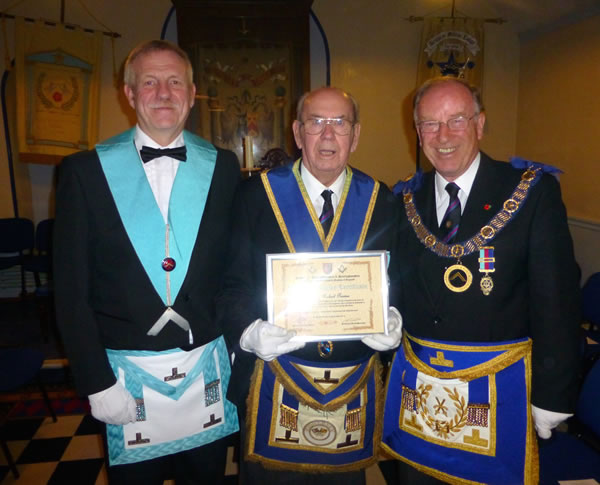 For many years, Sid & his wife Maisie regularly visited their cruiser on the River Nene and this love of the County led to them moving to Raunds in 1993.
Sid became a joining member of Chicheley Lodge 607 in Thrapston in 2005 and is a keen member of the Masonic Bowls Association.