It is with much regret that St John's Lodge No. 3972 announces the loss of long-time member, Bro Albert Colin Elvy PPJGD, who passed to the Grand Lodge Above on the 23rd of January 2021 aged 90-years.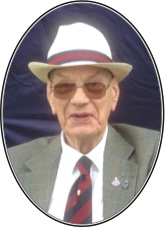 Bro Albert Colin Elvy
21st September 1930 - 23rd January 2021
Born into a military family on the 21st of September 1930, Bro Colin initially lived in Alderney in the Channel Islands.
When he was 18-years old, Colin followed in his father's footsteps by enlisting into the British Army where he served in the Grenadier Guards.
In 1951, Colin joined the Royal Household as footman to King George VI and Queen Elizabeth. He lived in a 'grace and favour' flat in Windsor Castle.
During his service, Colin served the Royal Family at Sandringham, Holyrood, Balmoral, Windsor and on the Royal Yacht Britannia.
His duties also included participating in the funeral of King George VI in 1952 and the Coronation of Queen Elizabeth II in 1953.
Colin was honoured to receive medals from King Faisal of Iraq, the King of Sweden, and Emperor Halle Selassie of Ethiopia.
Colin left the Royal Household in 1957, subsequently taking-up employment as a security-officer with British Timken, a position he held for 25-years.
In September 1953, Colin again followed in his father's footsteps, this time by being initiated into his father's lodge, Shorncliffe Lodge No. 4330, which meets at Sandgate in Kent.
Colin subsequently joined St John's Lodge No. 3972, which meets in Northampton, in 1967.
In 2013, WBro Bob Allison PJGD presented Bro Colin with a Diamond Jubilee certificate marking his 60-year unbroken membership of Freemasonry.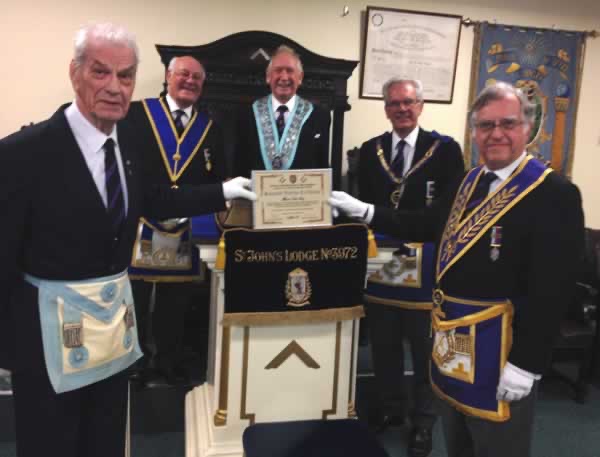 Colin was further honoured in 2015 with an appointment to the rank of Past Provincial Junior Grand Deacon.
Recalling his memories of Bro Colin, WBro Phil Arnold said:
I first met Colin around 1985 when I visited British Timken to repair some computer equipment. I stopped at the gatehouse whereupon this tall, smart, ramrod-straight security officer approached and said, "Good morning, Sir. How can I help you?"

Immediately I knew he was ex-military, took his job seriously, and nothing or nobody would get past him.

I had relations and friends who worked there, and whenever I mentioned my visit and the security officer, they always said something like, "Ahh, that was Colin - nothing gets past him. He's a super bloke and treats everyone the same."

Then, at my initiation, I spotted the same, smart, ramrod-straight chap, who this time was beaming whilst approaching me with hand outstretched. It was, of course, Colin, and because we shared a military connection, we instantly hit it off.

Colin was so welcoming and supportive as I progressed through the lodge. He never criticised, only offered tips and suggestions in a whisper, giving me directions if he thought I was a little lost.

During this time, I learnt that Colin had been a Grenadier Guard and a footman to Her Majesty the Queen. He was extremely proud of his service but never boasted or sought favour.

Colin was also immensely proud of his children.

We meet many people as we travel through life, and some, like Colin make a lasting impression. I am proud to have called him friend.
Bro Colin enjoyed visiting and was a 'permanently invited guest' of Grey Friars Lodge No. 4990, spending many a splendid evening in their company. Indeed, Colin rarely missed Grey Friars' meetings unless they clashed with those of St John's Lodge.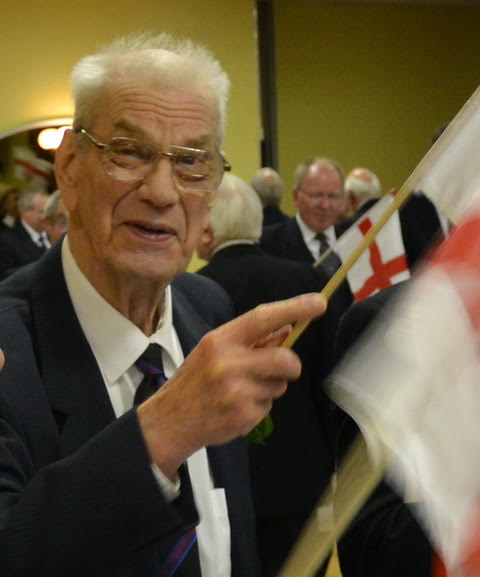 Bro Colin's funeral took place at the Counties Crematorium in Milton Malsor, Northampton on Thursday 25th February 2021. A Guard of Honour was formed by members of St John's Lodge, Grey Friars Lodge and the Grenadier Guards Association (Northamptonshire Branch).
Rest in Peace, Brother Colin. As a Freemason, you lived your life respected and died regretted.
A Tribute to the Memory of Bro Albert Colin Elvy PPJGD
The Old Master's Wages
I met a dear old man today,
Who wore a Masonic pin,
It was old and faded like the man,
Its edges were worn quite thin.
I approached the park bench where he sat,
To give the old brother his due,
I said, "I see that you've travelled east,"
He said, "I have, have you."
I said, "I have, and in my day
Before the all-seeing sun,
I played in the rubble, with Jubala,
Jubalo and Jubalum."
He shouted, "Don't laugh at the work my son,
It's good and sweet and true,
And if you've travelled, as you said,
You should give these things their due."
The word, the sign, the token,
The sweet Masonic prayer,
The vow that all have taken,
Who've climbed the inner stair.
The wages of a Mason,
Are never paid in gold,
But the gain comes from contentment,
When you're weak and growing old.
You see, I've carried my obligations,
For more than sixty years,
It has helped me through the hardships
And the failures full of tears.
Now I'm losing my mind and body,
Death is near, but I don't despair,
I've lived my life upon the level,
And I'll die upon the square.
Sometimes the greatest lessons
Are those that are learned anew,
And the old man in the park today
Has changed my point of view.
To all Masonic brothers,
The only secret is to care,
May you live your life upon the level,
May you part upon the square.