It is with great sadness that we report the loss of Grey Friars Lodge member, WBro Alan Bailey PPJGW, who passed to the Grand Lodge Above on Saturday the 13th of February 2021 aged 77-years.
WBro Alan was initiated into Grey Friars Lodge No. 4990 on Monday the 24th April 1989. This was somewhat appropriate considering that, during his time as Master, Alan created the Lodge's first St. George's Day celebration, an event that has taken place at every April meeting since.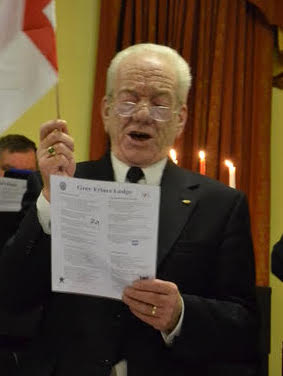 Alan was an extremely hard-working lodge-member.
After serving in all of the progressive lodge offices with the exception of Inner Guard (he was appointed as Assistant Secretary that year instead), Alan served as Master twice (1999/2000 and 2004/2005), Charity Steward twice (2000-2004 and 2005-2013), Assistant Director of Ceremonies twice (2001-2004 and 2016-2018), and Director of Ceremonies from 2005 to 2016.
Many of the Grey Friars members appreciated the one-on-one rehearsals Alan held at his home. He was also a Preceptor of the Northampton Lodge of Instruction.
As well as being a member of Grey Friars, Alan became a joining member of Sulgrave Lodge No. 9462 in 2004, and a founder member of Salcey Forest Lodge No. 9854 in 2010.
Alan received his first Provincial appointment in 2005 when he was honoured with the active rank of Provincial Assistant Grand Standard Bearer. This was followed by an appointment to PPGStB in 2006, another active appointment in 2008, this time to Provincial Grand Superintendent of Works, and appointments to PPGReg and PPJGW in 2013 and 2018 respectively.
In 1990, Comp Alan was exalted into the Holy Royal Arch, becoming a member of Eleanor Cross Chapter No. 1764.
During his working life, Alan was an excellent salesman. After working as the manager of the Northampton branch of Kettering Tyres for a number of years, he became manager at Scalemore, a tool-hire/sales company that he eventually took over and ran very successfully until his retirement in 2014.
Alan was a very generous man, and Grey Friars Lodge have a lot to thank his generosity for. Before computers and emails, lodges summonses were printed and sent to members by post, a cost that was borne by Alan for several years.
WBro Alan suffered the loss of his first wife Carol at a young age. He married his second wife, Gill, on Valentine's Day in 1992
Unfortunately, Alan's health deteriorated in later years due to the onset of Parkinson's and dementia.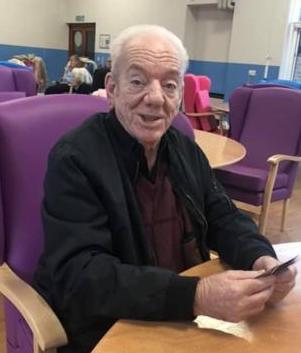 WBro Bob Farey, a long-standing member of Grey Friars, remembers working for Alan as a Scalemore delivery driver for several years following his retirement. Bob commented that it was a period in his life that he thoroughly enjoyed, one that exposed him to Alan's generosity on a regular basis.
Another member, WBro Ron Jennings, knew Alan for over 70-years and always referred to him as 'Ginge' Bailey due to his shock of red hair. WBro Ron also remembers Alan's generosity, both at Kettering Tyres in the late sixties (a new tyre for the price of a repair), and more recently at Scalemore, where he was loaned tools by Alan rather than having to hire them.
Alan and Ron were both initiated by Ron's late father in 1989, and Ron followed Alan in every office of the Lodge from Steward to Master. Ron remembers Alan offering him assistance together with kind words of encouragement in every office.
There is no doubt that when Masonic meetings can resume, Grey Friars Lodge will seem a sad and strange place without WBro Alan John Bailey in attendance. He was an exceptional friend and Brother.
Article written by WBro Bob Farey with contributions from WBro Ron Jennings.