It is with great sadness that we report the passing of WBro George Oliver March PProvAGSec to the Grand Lodge Above on Thursday the 14th of January 2021. He was 97-years of age.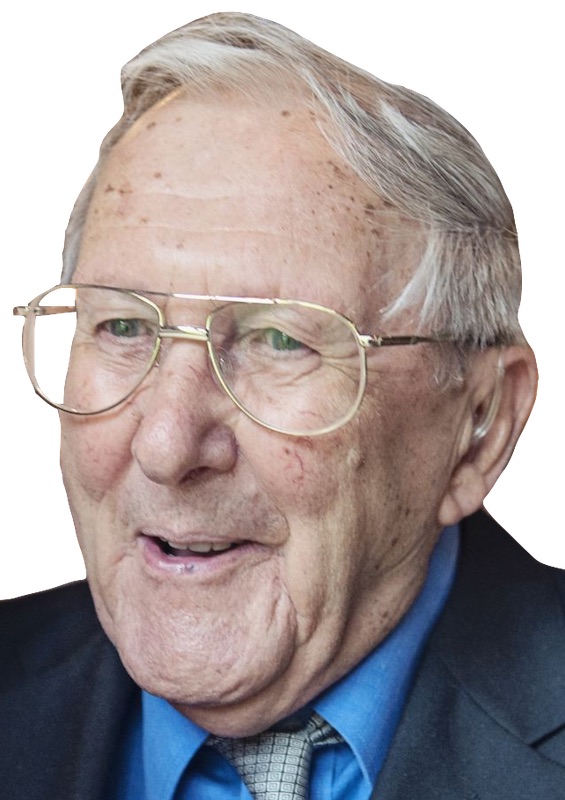 Having been born in Coventry in December 1923, George moved to Thrapston, Northamptonshire soon after.
He was educated at a number of local schools culminating in the award of a scholarship to Kimbolton School in Huntingdonshire where he matriculated in the Cambridge School Certificate in 1940.
On leaving school, George worked for a short time before enlisting in the Royal Air Force Voluntary Reserve, adding a year to his age in order to gain acceptance. He served as an electrician keeping aircraft serviceable.
Unfortunately, George was injured on two occasions as a result of bombing. He was rendered unconscious for a number of days following the second incident and required a long period of rehabilitation. George was subsequently classified as unfit for service and discharged in 1944.
After leaving the RAF, George trained as a public health inspector. His first appointment in Huntingdonshire resulted in him moving to Kimbolton where he had attended the School pre-war.
In 1947, George married Joyce Ruby WADE, and in 1949, their son Richard was born.
Having obtained further qualifications, George became a local government engineer and surveyor working for several authorities in East Anglia.
George took early retirement from Norfolk County Council in 1974 following which he joined Broadland Housing Association, finally retiring in 1986.
As a husband, George nursed Joyce from 1964 until her untimely death in 1967. Throughout this period, he continued to work whilst being a father to his son, Richard.
George subsequently married Dorothy May Sanders, remaining in Norfolk till they moved to the Isle of Wight in 1988.
In 2008, as result of Dorothy's deteriorating health, the couple moved to the RMBI home at Zetland Court in Westbourne. Dorothy died in 2011 following which George remained at the home until his passing.
WBro George's Masonic career started in March 1953, when he was initiated into Old Kimboltonians' Lodge No. 7204. He was installed as Master of the Lodge in September 1966.
In 1974, George was honoured by an appointment to Provincial Assistant Grand Secretary.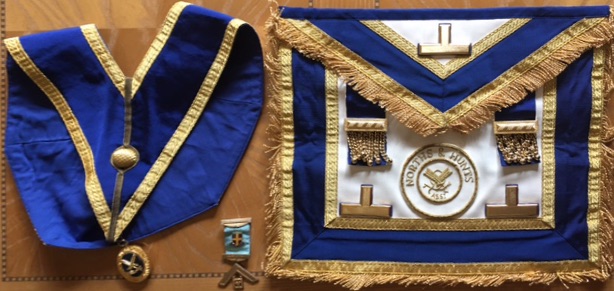 E Comp George was Exalted into the Holy Royal Arch when he joined St Ivo Chapter No. 2685 in St Ives. After becoming a founder member of Doric Chapter No. 1193 in Wymondham, Norfolk in 1978, he was elected as an honorary member of that chapter in 2017.
George was also a Rotarian, serving as President in 1972.
A keen walker, George led walking holidays on the Isle of Wight. He was also a bowler at Totland Bowling Club.
George supported a number of charities including the Isle of Wight Hospice, The Royal Institute for The Deaf, Macmillan Cancer Support and Cancer Research UK.
George was a character of the 'old school', born out of the post-war years when his generation were rebuilding social structures. He started with nothing and had already built a strong work-ethic pre-war by winning a scholarship to educate himself. To this day, George's work-ethic is evident in his family - a lasting legacy inspired by his example.
Sometimes misunderstood, George was an opinionated man, often tempered by a dry humour but without malice. Anecdotally, he has been endearingly described as a man who, "when he spoke, you listened!"
George is survived by his son, Richard; his grandchildren, Tania, Sonia and Daniel; and his great-grandchildren, Cameron, Dylan, Ellie and Harry.
He was a loving and caring man who gave much support to the later generations of his family and was very proud of their varied achievements.
As a gentleman and a Brother who was much loved, George most certainly lived respected and died regretted.