We are saddened to report the loss of WBro Jim Mortimer, a well-respected and popular member of Waynflete Lodge No. 4452, who passed to the Grand Lodge Above on Wednesday the 23rd of September 2020.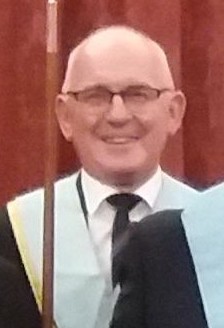 WBro Jim was proposed by his father into the Lodge of The Three Graces No. 408, Haworth in Yorkshire in 1975 and initiated in 1976. The Three Graces is a long-standing lodge with a history dating back to 1792.
Jim joined Waynflete Lodge in Brackley in 1990 after relocating for work.
Having served as Charity Steward from 1991-94, Jim progressed through the offices eventually becoming Master in 1999. He also served as Directory of Ceremonies on three separate occasions.
All in all, Jim played an active part at Waynflete for over 30-years. His ritual was faultless, and his presentations of the 2nd Degree Tracing Board were always memorable and moving, as were the addresses he gave at Installation meetings.
Jim was due to return to the Chair of Waynflete in 2020, but unfortunately, he was forced to decline due to deteriorating health.
Having been appointed as acting Provincial Assistant Grand Director of Ceremonies in 2005, Jim escorted the Provincial Grand Master on several occasions, and he was well known around the Province
WBro Jim was also renowned for his renditions of Albert and the Lion at Christmas White Table dinners, delivered as they should be in his native Yorkshire dialect! He was a friendly and enthusiastic Mason and an encouragement to all who were privileged to have met him.
In his personal life, Jim was a professional mechanical and electrical engineer whose work was based in the UK but also involved overseas travel.
Jim's first wife, Sheila, died some years ago. They had a daughter and several grandchildren.
Jim was very lucky later in life to meet his second wife, Jacky, who is still very much in touch with the lodge-brethren and their families.
WBro Jim had many friends in Freemasonry, but he will be particularly missed by the brethren of Waynflete Lodge, where this proud Yorkshire man was a constant presence.
Rest in peace, Jim.