On Thursday the 27th of June 2019, WBro David Redden, Charity Steward of Chicheley Lodge No. 607 based at Thrapston, and his wife, Janet, attended a social-tea event in Banbury where David presented a cheque for £600 in support of the Northamptonshire human/canine partnerships being created by Dogs For Good. The money represented a joint donation from the Lodge and the Provincial Grand Charity.
Dogs for Good is a registered charity that explores innovative ways in which dogs can help people overcome specific challenges:
Assistance dogs support adults and children with a range of disabilities, including children with autism.
Community dogs and their specialist handlers help people to improve their independence, well-being and skills.
The Family Dog team gives advice and support to help people get the most out of their relationship with their pet dog.
The exceptional, life-changing partnerships created by the charity provide a level of independency that wouldn't otherwise be possible.
David and Janet met several of the recently qualified partnerships including some from Northamptonshire, as shown in the following photograph.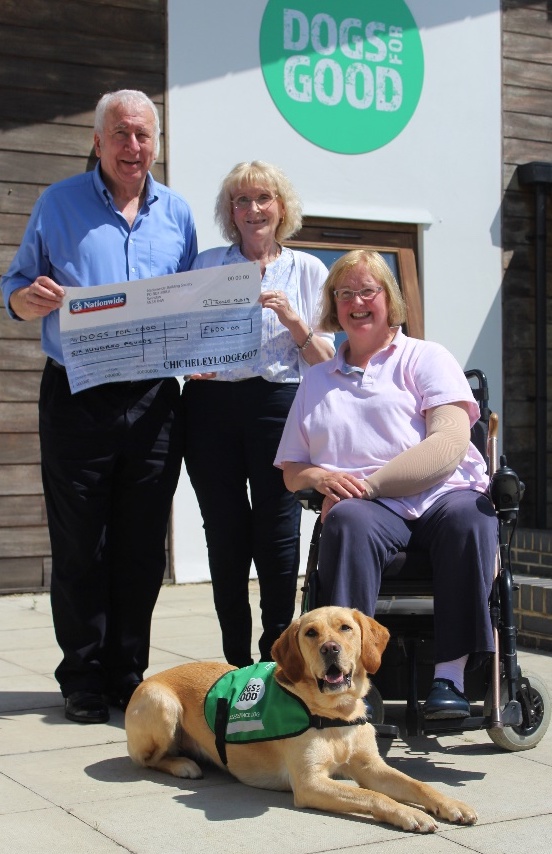 The charity's Training Team has advised that there are another three potential partnerships in Northamptonshire on their way to being matched with assistance dogs, which is great news.
This makes the current number of partnerships in Northamptonshire and Huntingdonshire approximately twenty.
In a letter to the Lodge and the Provincial Grand Charity, Lydia Martin, Regional Fundraiser for Dogs For Good, wrote:
Thank you so much for your most wonderful donation of £600, which will be of huge benefit to us as we continue our vital work in the community. Through donations from organisations just like yours, we can help even more people to benefit from the support a specially trained dog can provide.
We congratulate the brethren of Chicheley Lodge and the Provincial Grand Charity for supporting such a worthwhile cause.